Back after bonding day.
Don't be afraid, if you have something to say, just open up your heart and let it show you the way
Hello my readers :)
Today is a tiring day for me, basically because I only slept for 4 hours!!
I'm so tired by the time it was 6pm, its weird though, first time sleeping so late.
I slept at 4AM last night, because I was updating my blog and then watching a drama show :)
I woke up at 8AM today because of the 'DNHW bonding day'.
Note to self: IF we ever get to plan the next outing, plan it better!! This bonding day gave us practically no chance, as in literally ZERO chance to bond, in fact I think it worsened some ties amongst classes... Like, totally opposite of what we're supposed to achieve... I mean, we're supposed to mingle with my groupmates/seniors right?
Contradicting thing is that I don't even know my group member's name!!
It's so weird :l
I felt that I wasted my WHOLE day because of this. A little upset :(
BUT anyway, the drama that I watched last night is called ' To the beautiful you' or 'For you in full blossom'
Its a korean drama series, as of now, only 5 episodes are out and its coming out 2 episodes per week, Wednesday and Thursdays.
It's a new drama series, followed after the popular manga 'Hana Kimi'
In which, it is more popularly known as:
Yep, thats right, Hua Yang Shao Nian Shao Nu.
The drama is based on the Japanese shoujo manga "Hanazakari no Kimitachi e" (花ざかりの君たちへ) by
Hisaya Nakajo
. The literal translation is "For You In Full Blossom."
So, its a similar adaptation of the popular manga :)
The Taiwanese drama version of this manga wasn't that good, besides the fact that Wu Zhun was inside and he brought up the show's rating.
I sincerely and really hope that the Korea's adaptation of this manga would be better :)
Thus, I'm watching it now, hoping to write the review some day :)
Anyway, I'm only into the 2nd episode, and it's turning out pretty well :)
Minho from SHINee is acting in this drama series and so far his acting skills are pretty good :)
And then there's this one cute guy that stands out amongst the rest,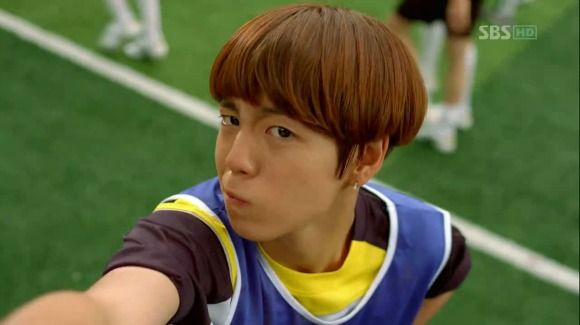 He's an awesome soccer player (In the show) and his actions are super duper cute :)
Think I'm a sucker for cute guys ;)
OKAY, anyway, its 10.54PM..
I'm super tired and needs to sleep :)
Tomorrow my caregroup is having 'koi-no-nia'
Its like dinner but pot-luck, so everyone has to bring a food item :)
I'm going to bring my homemade jelly :)
PLUS PLUS, I'm going back to my secondary school for the teacher day's celebration...
CANT WAIT :D
Will update you guys again tmrw :)
Have a blessed night and a better day ahead :)
Love,
Amanda Chia.